Monsoon season has arrived in Erinn! To protect yourself from the torrential rains that are sure to come, outfit yourself in some truly fashionable rain wear. Get a Jumping in the Rain character card!
Each Jumping in the Rain character card comes with Vanalen Rain Coat and Vanalen Rain Boots. These adorable rain coats come with a duck-billed hood topped off with a propeller. The galoshes will keep your legs dry as you stomp through the puddles of the rain season.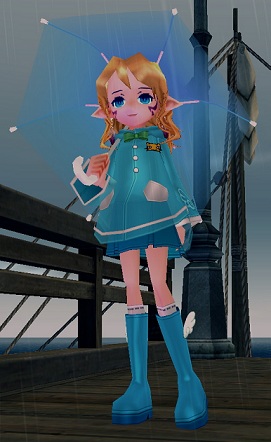 Finally, these character cards come with one of three random umbrellas: clear, frog, and lace. Upon equipping one of these umbrellas, you will gain access to a special action that allows you to open the umbrella and prop it over your shoulder. Even better, with the action "on," you will perform a spirited leap by pressing the spacebar on your keyboard.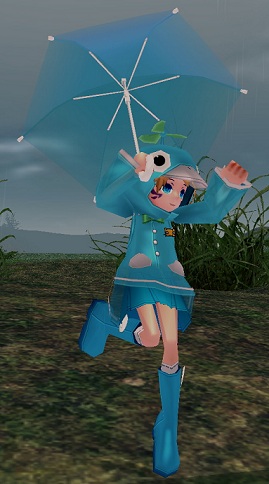 Jumping in the Rain Character Cards will be available for three weeks, from August 17th to September 6th.